Walking to Devonport
Walking to Devonport is a great outdoor experience, whether you plan to walk the short distance from the city centre and catch the ferry across to Devonport or for the more dedicated walkers enjoying a day long trek from Torbay along the coast to Devonport at 23km.
Devonport is located on a peninsula opposite Auckland's city centre just across the harbour and next to its neighbouring township Takapuna.
If you are looking for a short walking option you can travel the Green Route, a scenic 6km walk from Takapuna that follows a network of paths, boardwalks and bridges. The pathway journeys through parks, heritage areas, mangroves and residential streets.
For the real adventurers the Torbay to Devonport Te Araroa walkway offers you a full day walk and trek covering 23 kilometers with the average walking time of approximately 7 hours. There are two options for this walk, an urban version that follows the all-tide route which includes cliff top tracks, pedestrian shortcuts, steps and footpaths.
The low tide route allows you to walk almost all the way on the shoreline. However this route is not for the faint hearted as rocks may be very slippery and unstable underfoot with some risk of unstable cliffs above you. There are several points in the shoreline where you can be cut off by the rising tide. If you plan to walk the whole way during one low tide, prepare to do some wading or use the all-tide route.
The trail comes inshore between Castor Bay Esplanade and Milford Beach to cross Wairau Creek on the Inga Road Bridge as the creek is too deep to forward by foot. Look out for Te Araroa logos, markers on posts, and small fingerboards on poles marking the track. More details can be found at http://www.teararoa.org.nz/auckland/north-shore-city-coastal-walk/
SIMILAR
FAMILY FRIENDLY
Discover the sights and sounds of Auckland's historic seaside village with a self-guided Devonport Audio Tour. The streets come alive as you uncover Devonport's unique role in New Zealand's history.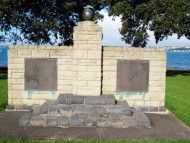 FAMILY FRIENDLY
The Maori History Trail is a great introduction to the unique indigenous history of Devonport and its links to the settlement of Maori in Auckland. Discover the landing site of one of the first Maori Wakas to New Zealand, two Maori pā sites and the grave of esteemed Maori Chief Eru Patuone.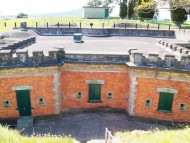 FAMILY FRIENDLY
Fort Takapuna is a lookout point and bunker defence site and the last of the New Zealand designed twin 6 inch gun forts in existence. The fort is below ground level as originally a dry moat surrounded the fort on all sides, with a drawbridge to provide access.