Address
15 Derby Street, Devonport, Auckland, New Zealand
Telephone
+64 (0)9 445 8716
E-mail
bruce@waitematagolf.co.nz
Website
click to visit >>
Waitemata Golf Club
With affordable green fees and an easy walking park like course, the Waitemata Golf Club has played an important part in the Devonport Community for well over a century.
Course history
The land was donated 107 years ago to the citizens of North Shore by the Alison family for use as a sporting facility. The course was for many years a nine hole affair with a motorbike, greyhound, and horse racing track around the outside.
Parts of the track are still in play today with the back straight forming the fairway of the par five13th. The Takapuna Jockey Club abandoned the track in 1938 and the 18 hole course was established. Today it offers a wonderful green belt and a focus for the heart of Devonport. Many residents enjoy a pleasant summer evening walk through the course.
A welcoming location
Waitemata in fact has options for most golfers from 9 hole players, to those who enjoy twilight competitions during daylight saving or daily summer holiday scrambles over a full 18 holes. Members and guests alike can then relax in the clubhouse, and enjoy both the view and the range of après golf fare from Waitemata's café and bar.
Corporate golfing
North Shore businesses find the accessibility of the course a bonus when planning their corporate golf day functions and these events have become somewhat of a specialty of the staff at the club.
Destination golf shop
Over the years the Golf Shop has become a favorite destination for women seeking the latest ranges in golf fashion clothing and accessories. Men are not left out either, and the shop stocks a comprehensive range of competitively priced golfing equipment.
Professional coaching
The Club's resident professional Blake Cowley offers coaching and clinics to new comers and seasoned golfers alike. Blake also supports neighbouring Intermediate and Secondary schools with golf tuition and the Club offers school student summer membership deals.
This is a very popular course and bookings are essential.
SIMILAR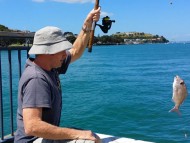 GREAT OUTDOORS
Devonport Wharf provides a great location for both children and adults to fish and has a large number of fishing spots to choose from. The wharf has been a popular fishing location for both locals and visitors for many years.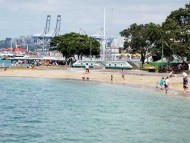 FAMILY FRIENDLY
Windsor Reserve and Devonport Beach are conveniently located near the Devonport ferry terminal and Victoria Road. Families love the big grassy areas and the playground for kids.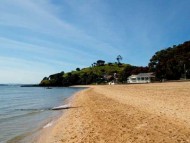 FAMILY FRIENDLY
Relax and breathe in the fresh sea air as you explore Devonport's famous Cheltenham beach. Marvel at the awesome sea views from the shore or take a refreshing dip in the calm ocean waters.