Auckland's prettiest village – Devonport by the sea
Just 12 minutes by ferry from Auckland's central business district and you're a world away in beautiful Devonport. From the breathtaking sea and city views to the stunning beaches, boutique shopping, charming accommodation and café culture – it's no wonder it's rated one of the top spots to visit in Auckland .
Breathtaking panoramic views from Auckland's top vantage spots
Devonport is located on a picturesque peninsula surrounded by the waters of the Waitemata Harbour. The two volcano cones boast some of the best look out points in Auckland. Walk, cycle, segway or take a mini bus tour to the summit of Mount Victoria and take in breathtaking panoramic views of the Auckland city skyline and its stunning harbour. Visit North Head for jaw-dropping ocean views across to Rangitoto and the islands of the Hauraki gulf. You will also see why Auckland is called the City of Sails!
Charming seaside village vibe with boutique accommodation and shopping
Famous for its collection of beautifully restored Victorian villas, Devonport boasts a fabulous range of boutique accommodation in a relaxed seaside setting. Take a stroll around the charming village and enjoy Devonport's unique shopping experience – from designer jewellery to Kiwi inspired gifts. Marvel at the creative masterpieces showcased at Devonport's acclaimed art galleries.
Gastronomic delights for food and wine lovers
Foodies adore Devonport for its cafe culture and specialty foods – including Devonport's famous chocolatiers. Treat your tastebuds to the culinary delights of darling Devonport at one of its popular eating establishments. Sample fine wines of New Zealand at one of the historic bars and pubs in the village.
Family fun in Devonport – hands-on-history, beaches and playtime!
Devonport is a popular spot for entertaining the whole family. Start by exploring Devonport's naval history; investigate North Head's old bunkers and tunnels, or visit the Navy Museum for a fun family outing. Devonport's safe swimming beaches are also popular with families as well as the scenic grassy areas and playgrounds that are dotted around the area.
SIMILAR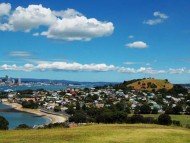 ABOUT DEVONPORT
A mere twelve minute ferry ride from Auckland's CBD lies Devonport seaside village - a must see whilst in Auckland. The picturesque historic village boasts stunning views of Auckland city unseen from any other location and a number unique attractions.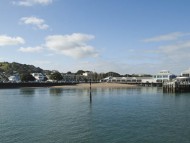 ABOUT DEVONPORT
If you have a short stay in Auckland and want to experience a world away from the hustle and bustle of the city, Devonport seaside village is the perfect choice. A mere 12 minute ferry ride will transport you to a small historic village on the north shore - a must see whilst visiting Auckland.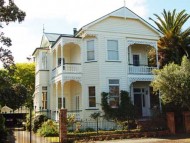 ABOUT DEVONPORT
Did you know that Devonport was once an island? Named after the Devonport naval base in England – Devonport is home to the Royal New Zealand Navy. Famed for its collection of Victorian villas and the earliest purpose-built cinema that's still in existence in the Southern Hemisphere.