Address
22 King Edward Parade, Devonport, Auckland, New Zealand
Telephone
+64 (0)9 445 4188
E-mail
enquiries@thecaptainslanding.co.nz
Website
click to visit >>
The Captains Landing
A waterfront retreat and Bed & Breakfast with your own elegant private suite of rooms, The Captains Landing is hosted by Bo, a retired sea captain and his wife Margaret. The couple have spent most of their entire lives on and around the sea and love to make travellers feel at home in their Devonport home and boutique bed & breakfast.
You can share life's tales or enjoy as much privacy as you could wish for in your own thoughtfully furnished private suite.  Margaret creates marvellous breakfast experiences served at "The Captains table" with its exciting views of the busy harbour with yachts, cruise liners, ferries and commercial vessels passing by.
Stroll along Devonport's renowned waterfront to the village with its café's, fashion, art & crafts boutique shops and restaurants, or spend the day exploring the North Head with its tunnels, military history and naval museum.
Safe beaches are all around for safe relaxing swims. If that is not enough take the 10 minute ferry to down town Auckland with its captivating and exciting newly developed waterfront and shopping areas.
Devonport and The Captains Landing is the perfect place to start your New Zealand experience or indeed say "au revoire" until we meet again.
SIMILAR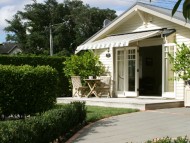 BED & BREAKFASTS
A private self-contained contemporary studio, located on Devonport's Stanley Point. Just a few minutes' drive from Devonport Village and a regular ferry service to downtown Auckland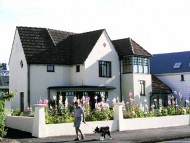 BED & BREAKFASTS
Admirals Landing's accommodation includes beautiful waterfront views of Auckland's harbour and city with easy-access to the city ferry and off street parking. A two minute walk to Devonport's cafés, restaurants, art galleries and boutique shops makes us an ideal location.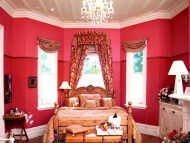 BED & BREAKFASTS
Peace and Plenty Inn a lovingly restored waterfront Victoria Villa in the charming harbour-side village of Devonport. Minutes away from Auckland CBD by ferry. Its spacious guests suites ooze colonial charm yet boast all modern conveniences. Direct dial phones, high speed Wireless internet.