Address
Shop 19, Devonport Ferry Terminal, Devonport, Auckland, New Zealand
Telephone
027 3393 155
E-mail
info@segwaytours.co.nz
Website
click to visit >>
Magic Broomstick Segway Tours
The Devonport Segway Experience
If you're 13yrs or over and can easily step up and down stairs, you can come for a great outdoor adventure on a Segway guided tour or ride.
"Fun Family Rides" are a great activity to do for the whole family with kids 10years and over able to have a go.  Our guide will teach you all young and old to ride the Segway.  Staying on Devonport's waterfront you'll have loads of FUN having an exciting ride. You'll also check-out the gun and mine outside Devonport navel base.
"A taste of Segway" will satisfy your curiosity as to just how those Segway's work.  After teaching you to ride a Segway, your guide will take you around the waterfront to Cheltenham Beach.  A FUN ride through the back streets of the village will return you to Magic Broomstick Tours base on Devonport Wharf.
"Mt Victoria Scenic Tour" Again your guide will teach you how to ride the Segway and give you plenty of time to get comfortable before taking you 'gliding' effortlessly to the top of Mt Victoria one of Devonport's volcanic cones.  THE most fantastic views of Auckland City, Rangitoto Island and the historic "Disappearing Gun" are part of this great guided tour.
"North Head Historic Sites Tour" at the top of this volcanic cone is another exciting Auckland attraction.  After a great Segway 'glide' to the top you can explore the Military Fort of the 1880's.  Wonder through tunnels and gun emplacements and marvel at THE most spectacular views of Auckland and the Hauraki Gulf.  Ride through the streets to admire the Victorian architecture.  And have a 'blast in the park' to feel the exhilaration of riding a Segway.
"Events" for special occasions or if you have more than 5 people in your group, we'll organize some Segway FUN and GAMES.  An event is a great "Team Building" activity or an energy boost for your corporate team.
"Gift Vouchers" – An outdoor adventure in Auckland not to be forgotten is the ideal gift for friends and family members.
SIMILAR
FAMILY FRIENDLY
Discover the sights and sounds of Auckland's historic seaside village with a self-guided Devonport Audio Tour. The streets come alive as you uncover Devonport's unique role in New Zealand's history.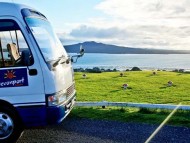 FAMILY FRIENDLY
Devonport Tours are the perfect way to explore the highlights of Devonport seaside village, with informative commentary from one of our friendly and knowledgeable guides. Devonport tours offers two tour packages: The Explorer Tour and The Lunch Tour.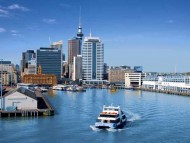 FAMILY FRIENDLY
Travel to Devonport with Fullers. Ferries operate regularly between Devonport and Auckland every half hour throughout the day. It's quick and easy.