Address
20 Church Street, Devonport, Auckland, New Zealand
Telephone
+64 (0)9 445 0378
Website
click to visit >>
Holy Trinity Church
Holy Trinity Church is one of the most beautiful churches in Auckland. It is a popular venue for wedding ceremonies on account of its traditional architectural design and because the clergy make every effort to ensure that the wedding services held in this church are conducted in a meaningful and reverential manner.
Holy Trinity Church comfortably accommodates 300 people. The hall and courtyard can also be hired for light refreshments after the wedding.
How to make a booking
Please contact the Vicar, Rev Charmaine Braatvedt, by email or by phone and check the availability for the date and time which you have in mind for your wedding.
When you make a booking, you will also need to arrange to meet the Vicar. At this meeting all the specifics of the Wedding Service will be discussed with you. You will also be informed of the date and time for two evenings of Wedding Preparation and the date and time of your Wedding Rehearsal.
Getting married at Holy Trinity Church
A Wedding Guide (pdf) can be downloaded from the Holy Trinity Church website and contains further information on:
* Wedding Preparation Sessions
* Order of Service
* Music
* Flowers
* Readings
* Wedding Candle
* Photography & Videography
* Marriage License
* Confetti or Flower Petals
* Donations and Financial Contributions
All arrangements relating to getting married in Holy Trinity Church need to be made with the Vicar, the Rev. Charmaine Braatvedt.
SIMILAR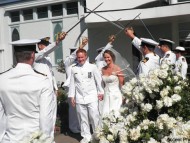 INDOOR & OUTDOOR CEREMONIES
Devonport Naval Base is the home of the Royal New Zealand Navy (RNZN). Serving and Ex Serving personnel, both military and civilian, may hold their wedding ceremony at the Chapel of St Christopher.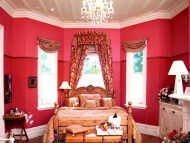 BED & BREAKFASTS
Peace and Plenty Inn a lovingly restored waterfront Victoria Villa in the charming harbour-side village of Devonport. Minutes away from Auckland CBD by ferry. Its spacious guests suites ooze colonial charm yet boast all modern conveniences. Direct dial phones, high speed Wireless internet.