Address
Pier 1 Ferry Terminal, 99 Quay Street, Auckland
Telephone
09 367 9111 or 0800 FULLERS
E-mail
enquiries@fullers.co.nz
Website
click to visit >>
Fullers Ferries – Auckland Cruises & Island Tours
It's quick and easy to catch a ferry across the harbour to the seaside village of Devonport with Fullers.
Travel to Devonport on board a Fullers ferry. It's just a short 12 minute trip across the harbour from Auckland's downtown ferry terminal to Devonport wharf in the heart of Devonport village.
Fullers operates the only regular service to Devonport leaving every half hour throughout the day. Fullers has been the leading ferry operator in Auckland for over 20 years. Fullers also offer a range of ferry trips, tours and charter or island transfer services around the Auckland Harbour and the islands of the Hauraki Gulf.
You can explore Devonport on your bike, it makes getting around quick and easy. And whats more, it's also free to take your bike there on a Fullers ferry.
You can travel to Devonport for free as part of the Fullers Harbour Cruise which offers you the very best of the Waitemata Harbour and inner Hauraki Gulf from the comfort of a modern high speed ferry. The Harbour Cruise also includes morning or afternoon tea and the opportunity to step ashore on Rangitoto Island, an iconic volcanic cone reaching high into the sky of the Gulf.
For sailing times and ticket prices to Devonport or for more information on the Fullers Harbour Cruise or other Fullers services, please visit our website or call the Customer Contact Centre on 0800 FULLERS or 09 367 9111.
SIMILAR
FAMILY FRIENDLY
Discover the sights and sounds of Auckland's historic seaside village with a self-guided Devonport Audio Tour. The streets come alive as you uncover Devonport's unique role in New Zealand's history.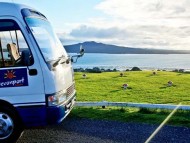 FAMILY FRIENDLY
Devonport Tours are the perfect way to explore the highlights of Devonport seaside village, with informative commentary from one of our friendly and knowledgeable guides. Devonport tours offers two tour packages: The Explorer Tour and The Lunch Tour.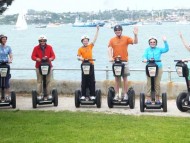 FAMILY FRIENDLY
Experience the Magic of riding a Segway and take a unique sightseeing tour full of fantastic fun and excitement, history and gob-smacking views. A 'must do' activity for family and friends.