Fascinating facts about Devonport
Did you know that Devonport was once an island? Named after the Devonport naval base in England – Devonport is home to the Royal New Zealand Navy. Famed for its collection of Victorian villas, Devonport also has the earliest purpose-built cinema that's still in existence in the Southern Hemisphere.
Devonport's foreshore is where the great Waka (Maori canoe) Tainui landed in the 14th century and also where the British Navy arrived in 1840.  Three volcanic cones formed the key landmarks of Devonport – Mount Victoria, North Head and Mt Cambria. Mt Cambria was quarried away to provide garden walls, roading and ships ballast.
The first ferries travelling between Devonport and Auckland city started in the 1840s and were open sailing cutters taking passengers to Queen Street. In 1860 paddlesteamer ferries began operating on the route – superceded by double-ended, screw-driven ferries in 1904.  Passenger and vehicle ferries were in use until the Auckland Harbour Bridge opened in 1959. Today Devonport is just a 12 minute ferry trip from downtown Auckland.
SIMILAR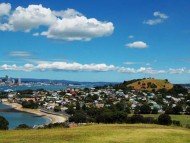 ABOUT DEVONPORT
A mere twelve minute ferry ride from Auckland's CBD lies Devonport seaside village - a must see whilst in Auckland. The picturesque historic village boasts stunning views of Auckland city unseen from any other location and a number unique attractions.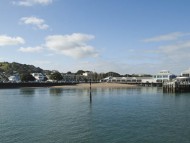 ABOUT DEVONPORT
If you have a short stay in Auckland and want to experience a world away from the hustle and bustle of the city, Devonport seaside village is the perfect choice. A mere 12 minute ferry ride will transport you to a small historic village on the north shore - a must see whilst visiting Auckland.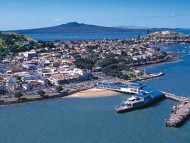 ABOUT DEVONPORT
Just 12 minutes by ferry from Auckland's central business district and you're a world away in beautiful Devonport. From the breathtaking sea and city views to the stunning beaches, boutique shopping, charming accommodation and café culture – it's no wonder it's rated one of the top spots in Auckland.