Devonport's festivals and events
Devonport hosts a fantastic range of world-class events and festivals throughout the year. It also boasts great vantage points for Auckland harbour events and  the city's New Year's Eve fireworks displays.
Sports enthusiasts enjoy competing in the Devonport half marathon and Devonport is the starting point for the Auckland marathon.  Littlies love the Santa Parade and the monthly Devonport Craft Market is popular with locals and visitors.
Mizuno Devonport Half Marathon – September
A scenic run or walk around beautiful Devonport – choose 5 distances 21 km, 15 km, 10 km,  5 km,  2 km.
The Coastal Classic Yacht Race – October
New Zealand's premier fleet yacht race from Devonport Wharf to Russell Wharf in the Bay of Islands – has been held annually on Labour weekend since 1982.
Auckland Marathon – October
It's an early start in picturesque Devonport for runners in the Auckland marathon – held annually in October.
NZ Sculpture on Shore – November
A stunning collection of sculptures on show at Fort Takapuna – exhibition is held alternate years and supports NZ Women's Refuges. NZ Sculpture on Shore celebrated its 10th biennial exhibition in 2014. Next event November 2020.
SIMILAR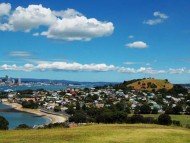 ABOUT DEVONPORT
A mere twelve minute ferry ride from Auckland's CBD lies Devonport seaside village - a must see whilst in Auckland. The picturesque historic village boasts stunning views of Auckland city unseen from any other location and a number unique attractions.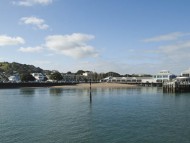 ABOUT DEVONPORT
If you have a short stay in Auckland and want to experience a world away from the hustle and bustle of the city, Devonport seaside village is the perfect choice. A mere 12 minute ferry ride will transport you to a small historic village on the north shore - a must see whilst visiting Auckland.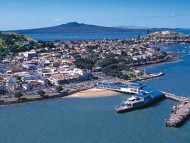 ABOUT DEVONPORT
Just 12 minutes by ferry from Auckland's central business district and you're a world away in beautiful Devonport. From the breathtaking sea and city views to the stunning beaches, boutique shopping, charming accommodation and café culture – it's no wonder it's rated one of the top spots in Auckland.