Devonport Playgrounds
If you're looking for a fun, free destination for the whole family, why not visit one of Devonport's parks and playgrounds. The seaside village has a range of safe playgrounds, many of which are located right on the waterfront, perfect for a stroll along the beach or a refreshing dip on a hot summers day.
Devonport has two larger playgrounds, Windsor Reserve and Devonport Domain, and several smaller playgrounds near the beaches and Waitemata golf course.
Windsor Reserve:
Windsor Reserve is home to Devonport's largest and most popular playground. With its bright blue and yellow equipment, it is hard to miss and can be found to the right of the Devonport Wharf. The picturesque seafront location is a beautiful spot for a playground and is extremely popular with locals and visitors alike.
The well-equipped playground includes numerous slides, swings, and a large climbing frame making it a good option for older children as well as your younger ones. In addition to the playground, Windsor Reserve has a large grassy area perfect for family games and picnics. Or if you'd prefer, walk a few metres down to Devonport beach, make a sand castle or go for a swim whilst enjoying the spectacular views of Auckland city.
Devonport Domain:
Devonport Domain can be found near the end of King Edwards Parade. If you are coming from the wharf, walk through Windsor Reserve to your right, and head right onto King Edwards Parade. The playground is next to the sports field on the left hand side approximately 15 minutes down the road. The park features traditional swings and seesaws with an elevated climbing frame and large slide, making it ideal for both younger and older children. The playground faces the waterfront, with views of the sea and surrounding Auckland area.
The beach opposite to the play area, Torpedo Bay is a lovely spot for a quick swim. Or if you have time, walk 3 minutes further down King Edward Parade to the left and visit the Torpedo Bay Naval Museum, another great family friendly activity. (for further details)
Cheltenham Beach:
Located one mile away from the ferry terminal – it's an easy and scenic walk to Cheltenham Beach. Along the route you will find beautifully restored Victorian villas – many with spectacular ocean views. This calm and safe beach is a popular spot for swimming, strolling and relaxing with the family with unique views of Rangitoto Island. At the end of Cheltenham beach there is also a small playground with a swing set, slide and seesaw, ideal for entertaining younger children.
Cheltenham beach is a beautiful location for a picnic, with a fish and chip shop a mere five minutes away at the Vauxhall Shops. Or, if you'd prefer to create your own masterpiece, have a summer kiwi barbeque cooked with the on-site barbeque facilities. If timer permits, Cheltenham Beach is a short 15-minute walk from North Head, a fantastic spot the whole family will enjoy. Children (and adults!) can spend hours exploring the military tunnel complex, gun emplacements and fortifications. (for further details)
Narrow Neck Beach:
Narrow Neck is another family-friendly beach and can be reached by bus from the wharf or on foot for those who enjoy a longer walk. On the grassy area behind Narrow Neck Beach you'll find a small playground complete with swings, a slide, a seesaw and a small climbing frame making it the perfect play area for younger children.
Grab a coffee or treat the family to an ice cream at the on-site café. Or if you prefer, cook your own food on the barbeque whilst the kids enjoy the playground. Whilst at Narrow Neck be sure to investigate Fort Takapuna, a lookout point and bunker defence site found on the hill to the right of Narrow Neck Beach. Children will enjoy exploring the barracks, tunnels, gun pits and magazine inside the last of the New Zealand designed twin 6 inch gun forts. (for more information)
Allenby Reserve: near Waitemata Golf Club
A mere 5-minute walk from the Waitemata Golf Club, a trip to the Allenby Reserve playground is a good way to keep children entertained whilst your partner plays a round of golf. The small playground has a swing set, slides and other equipment for younger children. There is also a large grassy area, which is an ideal spot for a family game of soccer or cricket.
Skate Park:
To amuse older skate or scooter enthusiasts head to the Skate Park opposite the Waitemata Golf course on Lake Road. The park is found at the bottom of the hill in Ngataringa Park and is fun for both beginners and those with more experience. For the younger children visit the maze also found in the park surrounded by beautiful flowers and plants.
From Ngataringa park you will also find the 'Lest We Forget' memorial drive walkway, commemorating those Devonport members of the armed forces who gave their lives in World War II. This walk links Devonport to Takapuna with views of the Auckland Harbour Bridge and Waitemata Harbour unique to this viewing point.
SIMILAR
FAMILY FRIENDLY
Discover the sights and sounds of Auckland's historic seaside village with a self-guided Devonport Audio Tour. The streets come alive as you uncover Devonport's unique role in New Zealand's history.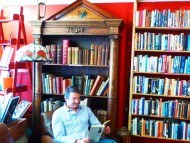 ARTS & CRAFTS
BookMark is that hidden gem that you have been looking for. Dedicated to the written word where you can rediscover the sensual pleasure of browsing a large selection of quality second-hand, used and rare books. Home to more than 20,000 books.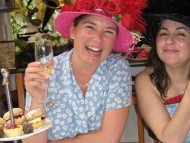 ALL THINGS WEDDINGS
Enjoy High Tea at the beautiful 1888 Heritage Victorian Villa with all the trimmings – fine vintage china, luxurious table linen, tiered cake stands and elegant silverware. Indulge in a sumptuous selection of hand-crafted treats served with a selection of fine teas.