Address
20 Wynyard Street, Devonport, Auckland
Telephone
09 445 1816
Website
click to visit >>
Chiasso Coffee Roasters
If it's coffee in Devonport, then head to Chiasso Coffee Roasters in Wynyard Street.
Artisan coffee roasters Chiasso, have been fresh-roasting coffee since 1997 and now provide their range of specialty blends to cafes all over New Zealand, including many in Devonport.
A Devonport institution, located in the 'cute little brick building' in Wynyard Street, this is the place where locals and visitors alike drop in to collect a bag of fresh roasted beans, sample an exquisitely produced espresso at the bar, or browse for the latest in coffee machines and paraphernalia.
Whether you need pre-ground coffee to enjoy during your stay in Devonport or wish to take a bag of beans home with you when you leave, the friendly and knowledgeable, Chiasso staff will answer all your coffee questions and recommend a blend for those who need some advice.
Open 9.am to 5pm. Monday to Friday and Saturday 9.am to 1pm.
SIMILAR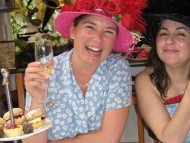 ALL THINGS WEDDINGS
Enjoy High Tea at the beautiful 1888 Heritage Victorian Villa with all the trimmings – fine vintage china, luxurious table linen, tiered cake stands and elegant silverware. Indulge in a sumptuous selection of hand-crafted treats served with a selection of fine teas.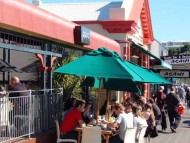 CAFE CULTURE
If you are looking for a café that has a great atmosphere, makes superb coffee, bakes and cooks everything on site, has plenty of indoor and outdoor seating, has a kid's area and free wi-fi, then visit us. You won't be disappointed.
CAFE CULTURE
Walk in to Châteaubriant and you will feel like you are in French patisserie heaven - the bread still warm from the oven, the authentic buttery and flaky pastries, the tartes du jour, the crusty baguette sandwiches including of course the French classic, jambon-fromage, all so delicious with the best of NZ coffee.