Address
87A Vauxhall Road, Devonport, Auckland, New Zealand
Telephone
+64 (0)9 445 0021
E-mail
epicureltd@yahoo.co.nz
Website
click to visit >>
Châteaubriant
Who would've thought you would find genuine French café culture just 15 minutes walk from the Devonport ferry?  Châteaubriant is one of Devonport's best kept secrets, a neighbourhood deli-café-charcuterie, it is a unique store that keeps its customers entranced with its delicious homemade food and unique décor.
Walk in to Châteaubriant and you will feel like you are in French patisserie heaven – the bread still warm from the oven, the authentic buttery and flaky pastries, the tartes du jour, the crusty baguette sandwiches (including of course the French classic, jambon-fromage (ham-cheese)… all so delicious with the best of NZ coffee.
Châteaubriant is a regular stop for picnickers who drop in to stock up on fresh breads, saucisson, importedFrench cheeses, and home made terrines or pâtés, before they head to the neighbouring beach Cheltenham, or take a stroll up North Head.
It also keeps the neighbourhood in supply of quality take home meals, such as the eternal favourite lasagne, the French classic coq au vin, and braised lamb shank – taking the stress of cooking a family meal out of their hands!.
Anne-Constance and Jean-Marc Palmeri took over Chateaubriant in November 2013 after living for seven years on the island of La Réunion, an overseas region of France in the Indian Ocean. Originally from Aix-en-Provence in the south of France, Anne-Constance and Jean-Marc both have backgrounds in hospitality and have worked in the industry for many years. Anne-Constance manages the cafe and shop while chef Jean-Marc is responsible for food preparation, baking and all the delicious produce.
Châteaubriant is open 6 days a week, 8.00am-4.30pm.
SIMILAR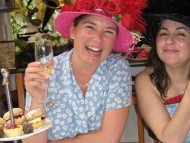 ALL THINGS WEDDINGS
Enjoy High Tea at the beautiful 1888 Heritage Victorian Villa with all the trimmings – fine vintage china, luxurious table linen, tiered cake stands and elegant silverware. Indulge in a sumptuous selection of hand-crafted treats served with a selection of fine teas.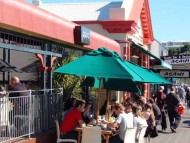 CAFE CULTURE
If you are looking for a café that has a great atmosphere, makes superb coffee, bakes and cooks everything on site, has plenty of indoor and outdoor seating, has a kid's area and free wi-fi, then visit us. You won't be disappointed.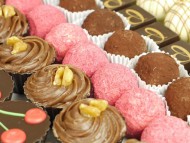 ALL THINGS WEDDINGS
Choose from a delicious range of chocolates and truffles handmade on the premises including unique New Zealand flavours such as kawakawa and horopito. View the chocolatiers whipping up creations through the viewing window from the shop into the chocolate kitchen.