Going to the chapel

And we're going to get married! Exchange your wedding vows in a church - the wedding ceremony can be either a nuptial Mass or a wedding service with scripture readings and sacred music.

Here comes the bride

All eyes are on the bride as she makes her grand entrance as the groom awaits the first glimpse of his beautiful bride. Choose a traditional wedding processional song or a meaningful modern song.

I do, I do, I do

Declare your love for one another in your wedding vows. I promise to be true to you in good times and in bad, in sickness and in health. I will love and honour you all the days of my life.

Beautiful beach wedding

Get married on the golden stretch of Devonport's beautiful Cheltenham beach. With breathtaking ocean views of Rangitoto Island it's a truly romantic spot to exchange your wedding vows.
INDOOR & OUTDOOR CEREMONIES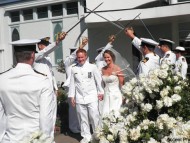 INDOOR & OUTDOOR CEREMONIES
Devonport Naval Base is the home of the Royal New Zealand Navy (RNZN). Serving and Ex Serving personnel, both military and civilian, may hold their wedding ceremony at the Chapel of St Christopher.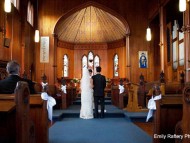 INDOOR & OUTDOOR CEREMONIES
The historic native-kauri timber Gothic architecture of Holy Trinity Church and its magnificent stained glass windows makes a stunning backdrop for your wedding service. Holy Trinity comfortably accommodates 300 people.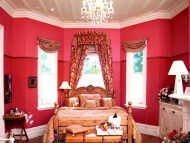 INDOOR & OUTDOOR CEREMONIES
Peace and Plenty Inn a lovingly restored waterfront Victoria Villa in the charming harbour-side village of Devonport. Minutes away from Auckland CBD by ferry. Its spacious guests suites ooze colonial charm yet boast all modern conveniences. Direct dial phones, high speed Wireless internet.