What will your adventure be?

Devonport wharf is the start of your adventure, whether you plan to take a tour, stroll the beaches or head to the high street you will have a magic day.

Take the boat back in time

Take a journey back into early New Zealand colonial history and depart from Auckland's grand old ferry building. Next stop is Devonport and its wonderful heritage village.

Devonport on the starboard bow

Your maritime adventure begins as soon as you step on-board. Enjoy the 12 minute journey and the sea views as you cross the Auckland Harbour.
FERRY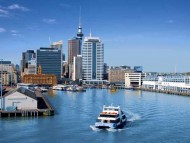 FERRY
Travel to Devonport with Fullers. Ferries operate regularly between Devonport and Auckland every half hour throughout the day. It's quick and easy.