Soak up the village vibe

Mingle with the locals at one of the popular pubs and bars in the village. Relax and reminisce about your day in Devonport over a refreshing beverage – sample fine wines and beers of New Zealand.

Out of the cellar

New Zealand is world famous for its top-notch wines. Relax at a popular Devonport bar and sample one of our fine drops accompanied by a delectable selection of small tapas style dishes.
PUBS & BARS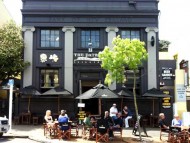 PUBS & BARS
Situated in the heart of the village, The Patriot is Devonport's only British themed pub. Located in the historic Bank of New Zealand building with its original safe vault you can soak up the atmosphere while supping a pint or a drinking great glass of wine.