Address
15 Victoria Road, Devonport, Auckland, New Zealand
Telephone
09-445 2960
E-mail
book.mark@xtra.co.nz
Website
click to visit >>
Bookmark
In one of Auckland's top second-hand bookshops you can step away from the frenetic electronic age and into a world apart. Redolent of a gentler and quieter time, BookMark's decor is rich with hues of oriental rugs and the amber lustre of time worn wooden cabinets.
Located just a few doors up from The Esplanade Hotel on Devonport's main street, Bookmark is  Auckland's  best and easiest to find second-hand bookshop. Within a heritage building overlooking the sea, Bookmark is a welcoming haven for bibliophiles who are encouraged to browse undisturbed through the vast collection.
Choose from collectible First Editions, or from 1000's of hardback and paperback titles ranging from the merely entertaining to the erudite. BookMark is home to more than 20,000 books. If you are a Bookaholic and are always on the lookout for a place that will feed your obsession, BookMark is that hidden gem that you have been looking for.
Our friendly and knowledgeable staff are always available to help you find what you are looking for, or to recommend authors…. and if you can't decide which of the many wonderful books to buy?  Curl up on the old leather couch or armchairs with your selection and choose at your leisure.
Travel the world from your armchair
From BookMark's armchair travel shelves you can join any one of the great travel writers of our time – Bill Bryson in Britain, Bruce Chatwin "In Patagonia", or even ride the Red Rooster with Paul Theroux in China.
Escape into the world of fiction
No bookshop would be complete without an extensive range of fiction, into which we can escape and explore and, you're in the hands of gifted writers at BookMark. Our range of quality international paperback fiction at great prices is complimented by our selection of first editions, and sumptuous Folio Society editions. From Art to children's nostalgia We have extensive art, architecture, biography, and cooking collections, as well as a very popular children's nostalgia collection, housing books from the late nineteenth century to the 1980's. A great range of contemporary children's books can be found in the Red Barrow outside the shop, and in the children's nook inside.
Venture through the New Zealand section
Discover our broad range of New Zealand titles from early history to contemporary culture and everything in between.  Find that special volume that you have been hunting for or rediscover those old childhood favourites.
Man your battle stations and weigh anchor
An ex Royal Marine, owner Mark Owen has created an outstanding Military and Maritime collection. His knowledge of books in this area is extensive, and he is always happy to chat and recommend titles. Visit and rediscover the sensual pleasure of browsing in the warm and cloistered environment that is BookMark. Dedicated to the written word and with a large selection of quality second-hand, used and rare books on all manner of subjects. BookMark has something to suit all discerning tastes. http://www.visitdevonport.co.nz/bookmarkYou won't be disappointed.
If you are travelling we are happy to organise postage of your purchases to your home.
We look forward to welcoming you to our very special shop. You can visit our Facebook page at: https://www.facebook.com/bookmarknz
Open 7 days, 9 am-6 pm
SIMILAR
FAMILY FRIENDLY
Discover the sights and sounds of Auckland's historic seaside village with a self-guided Devonport Audio Tour. The streets come alive as you uncover Devonport's unique role in New Zealand's history.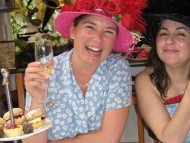 ALL THINGS WEDDINGS
Enjoy High Tea at the beautiful 1888 Heritage Victorian Villa with all the trimmings – fine vintage china, luxurious table linen, tiered cake stands and elegant silverware. Indulge in a sumptuous selection of hand-crafted treats served with a selection of fine teas.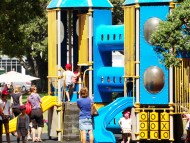 FAMILY FRIENDLY
If you're looking for a fun, free destination for the whole family, why not visit one of Devonport's parks and playgrounds next to Devonport's family-friendly beaches. For entertaining both older and younger children Devonport has two larger playgrounds and a skate park.