Auckland's best half-day or full-day trip excursion
If you have a short stay in Auckland and want to experience a world away from the hustle and bustle of the city, Devonport seaside village is the perfect choice. A mere 12 minute ferry ride will transport you to a small historic village on the north shore – a must see whilst visiting Auckland.
The ferry departs approximately every half hour (starting at 6:15am mon-sat & 7:15am sun) from the Auckland ferry terminal and returns to the city from the Devonport terminal also every half hour. The ferry is a short 12-minute ride with views of Auckland city and the Waitemata harbor.
Devonport is one of the earliest settled areas in Auckland and is characterized by its beautiful colonial architecture and stunning seaside scenery. Devonport is an area rich in history and has a long-standing affiliation with the New Zealand Navy. There are a number of historical sites that are easily reached by foot or try the Devonport Audio Tour .If you have a whole day you could hire a bike to explore further afield.
The 45 minute Devonport waterfront walk is a perfect way to get a taste of Devonport's unique history and admire a number of its' iconic surroundings; including the Boer war Arch memorial, volcanic lava flows, a public execution site and the Torpedo Bay Naval Museum. This walk can be extended to include North Head Historical Reserve.
Devonport is home to two extinct volcanoes: North Head and Mount Victoria, which act as fantastic platforms for viewing the surrounding areas. North head historical reserve is a historical coastal defence site containing a military tunnel complex able to be explored by the public. It is also an ideal picnic spot with beautiful views of the Waitemata harbor. North Head can also be reached by an alternative mode of transport- the Segway! For those willing to try something a bit different a Segway is an exciting way to see the sights of Devonport, join a one or two hour guided tour and explore Devonport with the help of an expert guide.
After an hour or two of exploring, Devonport's high street is the perfect place to stop for a meal or snack before returning to Auckland city. There are a number of cafés and restaurants with both kiwi and international cuisine to suit a variety of tastes. In the summer months sit outside and embrace the picturesque surroundings whilst enjoying your meal. The ferry terminal is a short 5-minute walk from high street to take you back to the city.
If you are lucky enough to have a day in Devonport continue your tour with a visit to the boutique shops that line Devonport's high street. There are exclusive fashion and footwear boutiques, local and international jewellery designs, stunning gifts and homeware and artworks by both local and renowned kiwi artists. Devonport is the perfect place to find a gift or a special treat just for you.
After a stroll around high street a visit to Mount Victoria is a must.  Mount Victoria is the highest volcanic cone on Auckland's North Shore and provides a 3600 panoramic view of Auckland city, the Waitemata harbor and Rangitoto Island. This unique view is unseen from any other location in Auckland.
At the end of a day of exploring what better way to relax and unwind then a drink and meal at one of Devonport's' restaurants or wine lounge. Try a delicious award winning New Zealand wine and sample fresh New Zealand cuisine all in the heart of Devonport.
For those looking for a place to stay overnight there are a range of accommodation types to suit all needs and budgets. There are beautifully restored Victorian Villa Bed and Breakfasts, boutique style hotels and motels, luxurious 4 & 5 star accommodation and self-catering options all to ensure you get a good night's rest in Devonport.
SIMILAR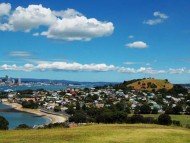 ABOUT DEVONPORT
A mere twelve minute ferry ride from Auckland's CBD lies Devonport seaside village - a must see whilst in Auckland. The picturesque historic village boasts stunning views of Auckland city unseen from any other location and a number unique attractions.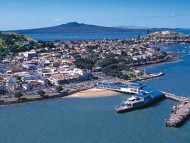 ABOUT DEVONPORT
Just 12 minutes by ferry from Auckland's central business district and you're a world away in beautiful Devonport. From the breathtaking sea and city views to the stunning beaches, boutique shopping, charming accommodation and café culture – it's no wonder it's rated one of the top spots in Auckland.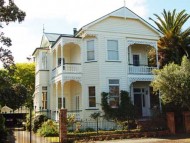 ABOUT DEVONPORT
Did you know that Devonport was once an island? Named after the Devonport naval base in England – Devonport is home to the Royal New Zealand Navy. Famed for its collection of Victorian villas and the earliest purpose-built cinema that's still in existence in the Southern Hemisphere.